25 Mind-Bottling SEO Stats
Note: this post originally appeared on https://junto.digital/blog/seo-stats-2017/
Yes, we did just say mind-bottling. While many believe that SEO is dead (enough that 210 people search for that exact phrase every month), the reality is that SEO is still very much alive, and we have the statistics to prove it.

Sure, Panda and Penguin have made it very difficult to cheat the system, but each of these algorithm updates has moved SEO from a manipulative marketing practice to an art form that combines branding, content creation, IT, and content promotion to drive highly qualified visitors to your website.
Whether trying to understand if SEO is right for your business or trying to sell SEO to a potential client, these 25 SEO stats for 2017 and 2018 should be enough to convince anyone that SEO is essential to their business, while also providing some good benchmarks when building your company's SEO strategy.
1. 93% of online experiences begin with a search engine. Click to Tweet this!
2. Google currently holds 80.5% of total search engine market share (up from 65.5% in January 2016). Click to Tweet this!
3. 57% of B2B marketers stated that SEO generates more leads than any other marketing initiative. Click to Tweet this!
4. 81% of people perform some type of online research before making a large purchase. Click to Tweet this!
5. 47% of consumers view 3-5 pieces of content created by a company before talking to a salesman from that company. Click to Tweet this!
6. 72% of online marketers describe content creation as their most effective SEO tactic. Click to Tweet this!
7. 75% of people never scroll past the first page of search engines. Click to Tweet this!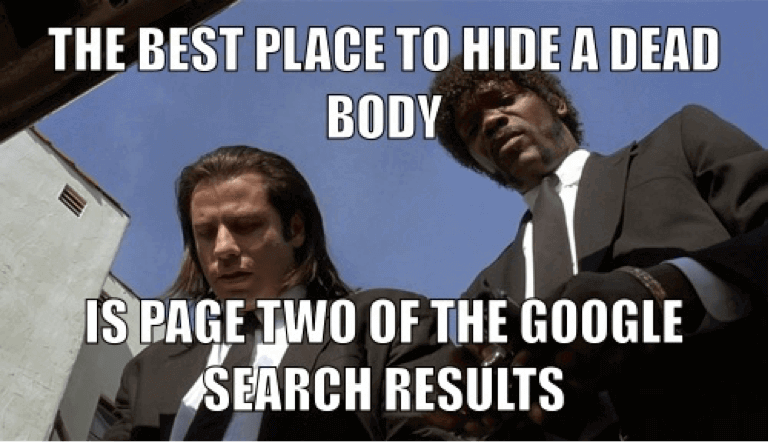 Photo credit to Huffington Post
Oh, you just did a search for the phrases that relate to your business and came up on the second page of search results? That's a bummer. But getting highly-targeted visitors to your website is overrated, right?
That's where we come in. Take 2 minutes to fill out this traffic generation form and we'll tell you exactly what you need to fix those search ranking issues.
Read this traffic generation case study to see how we got one e-commerce company to rank 7th on Google for "camera backpacks", just in time for Christmas.
Ok, enough shameless self-promotion. Back to the stats!
8. 61% of internet users do research on a product online before making a purchase. Click to Tweet this!
9. The average first-page result on Google consists of 1,890 words. Click to Tweet this!
Unfortunately, great content will get lost on the second page of Google without proper promotion. Learn how to use our Twitter Leapfrog Method to simply your content promotion efforts.
10. Leads from search engines have a 14.6% close rate, while outbound leads (ex. cold-calling, direct mail, etc.) have a 1.7% close rate. Click to Tweet this!
11. 70-80% of people ignore paid search results, choosing to only click on organic listings. Click to Tweet this!
12. Bounce rates increase by 50% if your website takes 2 seconds extra to load. Click to Tweet this!
13. Conversions fall by 12% for every extra second that it takes your website to load. Click to Tweet this!
14. Voice search currently accounts for 10% of total searches. Click to Tweet this!
Local SEO Statistics for 2017
Outranking national brands in search results was once nearly impossible in the world of SEO. Fortunately, Google gave local businesses a way to compete with the big guys in 2014.
In July 2014, Google rolled out the first version of their Pigeon update, which gave local businesses the ability to compete for search rankings on a local level. In short, Google began to give a ranking boost to businesses in close proximity to the searcher in location-specific searches (ex. "pizza near me", "Denver contractors", etc.).
Pigeon invited local businesses to the world of search engines, and those who were paying attention made out like bandits.
1. 72% of consumers who perform a local search visit a store within 5 miles of their current location. Click to Tweet this!
2. 61% of mobile searchers are more likely to contact a local business if they have a mobile-friendly site. Click to Tweet this!
3. 88% of consumers trust online reviews as much as they trust personal recommendations. Click to Tweet this!
4. 86% of people look up the location of a business on Google Maps. Click to Tweet this!
5. 78% of location-based mobile searches result in an offline purchase. Click to Tweet this!
6. 18% of location-based mobile searches result in a sale within one day. Click to Tweet this!
Mobile SEO Statistics for 2017
If you thought that mobile-friendly sites were "unnecessary", I think it's safe to say that Mobilegeddon proved you wrong.
On April 21, 2015, Google rolled out an algorithm update that hurt the search rankings of non-mobile-friendly sites in mobile search results. In other words, if your website ranked first in Google for "Denver pizza shop" when searching from your phone, but was a pain in the ass to navigate through on your phone, then it wasn't going to stay there for long.
Mobile search rankings are more important than ever, and will only grow increasingly important over time.
To sum it all up:
SEO is essential to your business' success
In most cases, writing long-form content is better than writing 500-word blog articles
If your website isn't mobile friendly, it's probably time for a new website
Every local business needs to have a website that is optimized for local search results
So was "mind-bottling" a fair word to use? For those of you looking to get started with SEO, come explore our SEO services to see exactly what we would do for you today.
Looking to stay up to date with new insights and marketing strategies in the changing digital landscape? Then sign up to be the first to receive our monthly updates, and come follow us on Facebook and Twitter.