How the Best Ecommerce Businesses Drive More Sales with Content Marketing
Growing your business with content marketing is hard.
From deciding which topics to create to getting content in front of your customers, knowing where to begin can be overwhelming.
That being said, 68% of online experiences begin with a search engine, and the best way to rank at the top of search engines is to write about the topics your customers are searching for.
That's where we come in.
Today, we're sharing what we've learned at Intergrowth from writing 100-200 articles/month over the past five years. We align each piece of content with the proper goal to drive long-term sales growth for clients.
Today, we're sharing that formula with you.
After reading this, you'll have everything you need to steal our framework and build a successful ecommerce content marketing strategy.
We're sharing the three primary content marketing goals (and each type of content to pair with those goals) to ensure your content marketing efforts drive real business growth for your ecommerce site.
Boost Brand Visibility with Awareness Content
Awareness Content consists of broad resources that those researching your industry regularly look for online.
Awareness Content could be:
Definition pages (ex "what is a Search Engine Optimization")
Step-by-step guides (ex. "How to become an Uber driver")
Listicles (ex. "9 Ways to Organize Your Kitchen")
And more.
The most successful content teams rely on keyword research to dictate which pages to prioritize. We recommend creating in-depth, SEO-centric resources for each piece of Awareness Content. Build high-quality backlinks to this content to expedite the timeline to get it to rank in search results.
These pages should focus on generating organic search traffic from search engines like Google. When successful, they will generate 10x more organic search traffic than most articles on your site.
For example, we're seven months into working with one client. The company has been around for a decade and has 861 total articles on its site. We've worked with them to write 5% of those articles.
Seven of the top ten organic traffic-driving blog articles on their site over the past 30 days were Awareness Content pieces we wrote.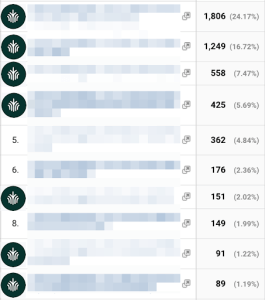 While successful Awareness Content will cause monthly website visitors and brand awareness to skyrocket, these pieces of content rarely drive sales directly (more on how they indirectly drive sales here).
If the goal of a piece of content is driving sales, we should focus on a different style of content.
This brings us to the second type of strategic content: Sales Centric Content.
2. Drive Revenue with Sales Centric Content Creation
Sales Centric Content drives revenue in one of two forms.
Revenue Creators
Revenue Creators argue why prospects should buy your products instead of a competitor's product. They focus on generating new customers. They push potential customers further down your sales funnel and help them make informed purchase decisions.
Revenue Creators consist of:
Case studies and customer testimonials (ex. "How [Client] Grew their Business by X% From Working with Us")
Product Comparisons (such as a comparison table highlighting features your product has that your competitor's product lacks)
Pain Point Content (ex. "How to Alleviate [Common Customer Issue] with [Feature of Your Product]")
Special product offers (ex. Using SMS marketing to send unique discounts to subscribers)
These types of content should be a collaboration between your content and sales team. This collaboration helps you correctly position your product and accurately reflect the core benefits for your target audience.
Our preferred approach is to highlight the best and least-suited customer to work with you (See one example of how we've approached this here).
One massive opportunity for those investing in Awareness Content is to push readers to opt into SMS updates or subscribe to your email list. Partner with a team like Recart to stay front of mind and drive more sales by setting up SMS marketing in a matter of days.
Revenue Preservers
Revenue Preservers help existing customers achieve their goals with your products and become loyal customers. Revenue Preservers focus on customer retention.
Revenue Preservers consist of:
Support articles/infographics (ex. "How to Reset Your Password")
Webinars/podcast episodes about how industry experts use your product in a unique manner (ex. "Did You Know You Can Use Our Product for [Use Case]?")
New product feature tutorials (ex. "Learn About Our Newest Product Feature: [Product Feature]"
Ahrefs is my favorite example of a brand that excels at Revenue Preserver content creation. Their Twitter, in particular, is a perfect example for anyone looking for ways to share product features.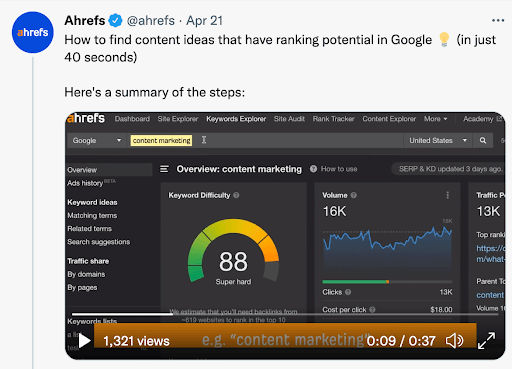 I came across one recent example while writing this article. Historically, Ahrefs has shared updates on new product features, workarounds to get more value out of their software, and more every week.
Revenue Preservers will lead to referrals and repeat business from your existing customers.
Sales Centric Content is invaluable in helping potential customers decide whether they should buy from you. Yet, most Sales Centric Content is written for those who already know about your product and brand.
This type of content will drive sales. These pages will have a high conversion rate. However, it's unlikely to introduce new potential customers to your brand. Succeeding with Sales Centric Content requires a heavy investment in SMS marketing, PPC (ex. Facebook Ads), or close collaboration with Awareness Content to funnel visitors to these more valuable sales pages.
3. Showcase Subject Matter Expertise with Thought Leadership Content
Thought Leadership Content focuses on achieving credibility from other experts in your industry.
We recommend structuring this in the form of:
A step-by-step walkthrough of a unique process your team uses in product development (ex. "Our 5-Step Framework for [Desired Outcome]")
Unique industry predictions (ex. "7 [Industry] Predictions We Expect to See This Year")
Branded concepts (ex. "How we achieve [outcome] our [branded term] strategy")
Brian Dean offers some of my favorite examples of branded content. For example, this guide showcases the "Skyscraper Technique" that Brain has become notorious for.
Each of these allows your team to share a unique perspective based on your experience in your industry. Insightful perspectives, new techniques, or the branding of new concepts all create the potential for other industry experts to perceive you as an expert within the industry they should follow to stay informed about the industry.
Other industry influencers are more likely to share these types of content with their followers, further expanding your perceived thought leadership across your industry.
P.S. Any article can achieve multiple business objectives. We cover this in our guide to Dual Purpose Content.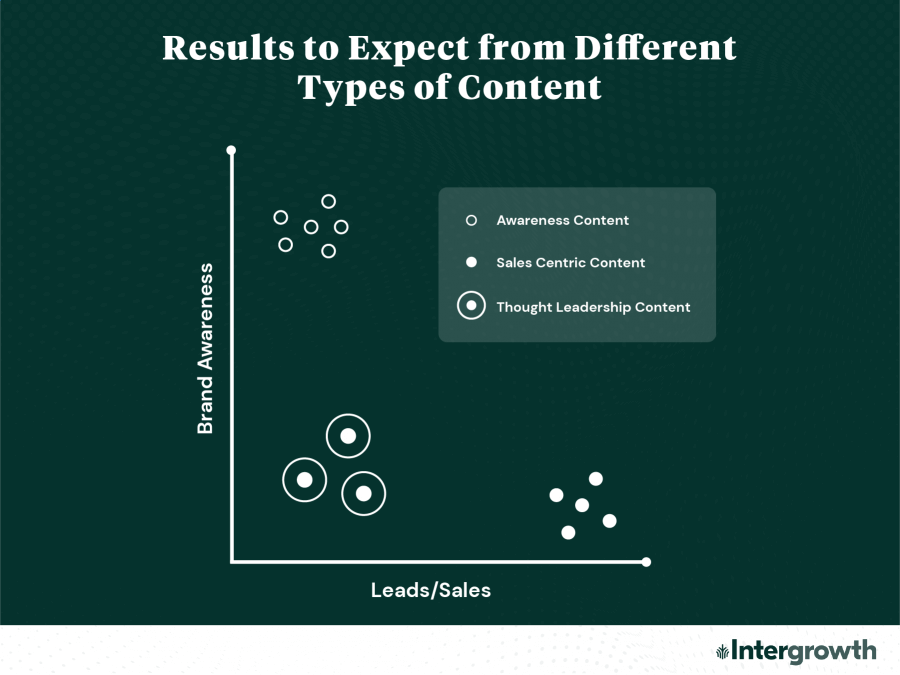 Bonus: Increase Morale with Culture Content
We've seen another popular type of content we refer to as "Culture Content." We define this as any content focused on company updates, interviews of your team members, new funding rounds, etc.
In our experience, this type of content doesn't drive traffic or conversions. However, this content gives your team a reason to share updates on social media channels.
More importantly, I'd argue this type of content boosts morale for existing employees and can show those outside your company how great it is to be a part of your team, helping you attract better talent.
Next Steps
The best way to succeed with content marketing is to align your content with strategic goals.
Are you looking to drive brand awareness? More sales from existing website visitors? Become a thought leader? Attract future hires? A mix of the four?
Those with 500 monthly website visitors may allocate 100% of their content marketing efforts towards Awareness Content for the next six months. On the other hand, businesses seeing 50,000 monthly website visitors may allocate 100% of their content marketing efforts towards Sales Centric Content and Thought Leadership Content.
Define 1-2 metrics that will help you to measure the performance of each type of content. Identify the most relevant content topics for each goal. Then, decide on the proper content format (ex. blog article, white paper, email marketing automation, video content, etc.).
Roll out your content marketing plan and revisit it regularly to determine how to better allocate your content resources.
Contact us to learn about our content marketing services if you're looking to partner with a team to spearhead your content efforts. We help growth-minded businesses to become the leader of their industry as fast as possible.
Prefer to handle content marketing in-house? Download our Content Marketing Playbook to steal our step-by-step breakdown of how to build a content marketing machine that generates sales on autopilot.
Feel free to leave questions or feedback in the comments below. I'd love to hear from you.