SaaS SEO: Content Marketing for Software-as-a-Service Brands
Note: Intergrowth SEO Strategist Chris Zacher wrote an updated version of this article that is much more focused on SEO since this was originally published in May 2022. See https://intergrowth.com/seo/saas/ for a more updated guide.
Some startups put more emphasis on social media marketing than on SEO.
Flip that.
68% of online experiences still begin with a search engine, and small tech companies rank for high-volume search terms all the time.
So if you're the founder of a SaaS company or have been tasked with marketing one, keep reading.
Here's what we'll walk through:
An overview of how SEO works
What's behind high-quality content
Using broad strokes and your own expertise to build site authority
Creating competitive content
How links from other sites affect your position in SERPs
Technical SEO
Should you hire an SEO agency or work in-house to accelerate your technology company's online presence and lead generation?
Let's take a look.
SEO Framework Breakdown
Search engine optimization is a craft that uses various strategies to rank a website at the top of search engine results pages (SERPs) — primarily Google.
Other search engines are important, of course, but Google owns around 87% of the market share.
There are three primary things we do at Intergrowth to increase organic search traffic:
Create website content so valuable that other websites link to it.
Make sure that Google knows what our site is about so that it's properly indexed.
Promote content to the right audience so they link back to that content.
Of course, these are easier said than done. They involve dozens of sub-tasks and lots of testing, but those are always our overarching goals.
Keep that in mind as you read this guide.
Now, let's talk about how SEO can work for your SaaS business.
---
Defining High-Quality Content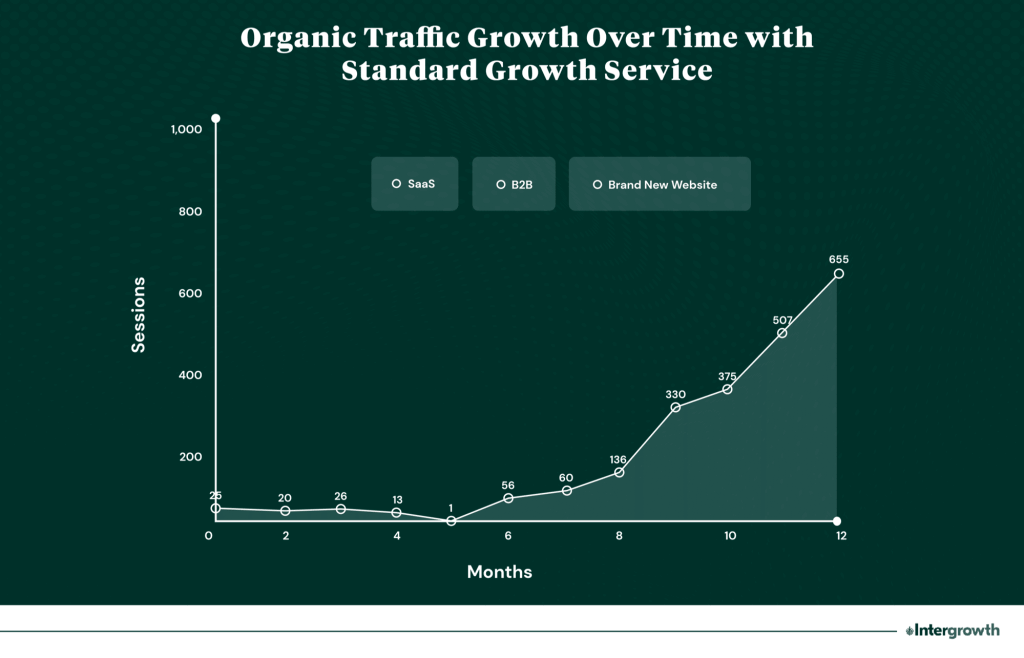 The best way to come up with blog topic ideas is to answer these two questions
What terms are your potential customers searching on Google (or Reddit/Quora/other forums)?
What types of articles are they already reading?
If you can come up with a list of ten or twenty specific answers to each of those questions, you'll have enough blog topics to keep you busy for the next year.
Here are a few ways to approach this problem:
Competitor Analysis
Understanding why people go to your competitors' websites (aside from their products) can teach you how to drive them to your site.
Tools like Ahrefs and SEMRush (two of our agency's favorite SaaS products, coincidentally) will show you which pages on your competitors' sites are bringing them the most traffic.
For example, let's look at the Ahrefs data of a successful SaaS company that's known for having a popular blog: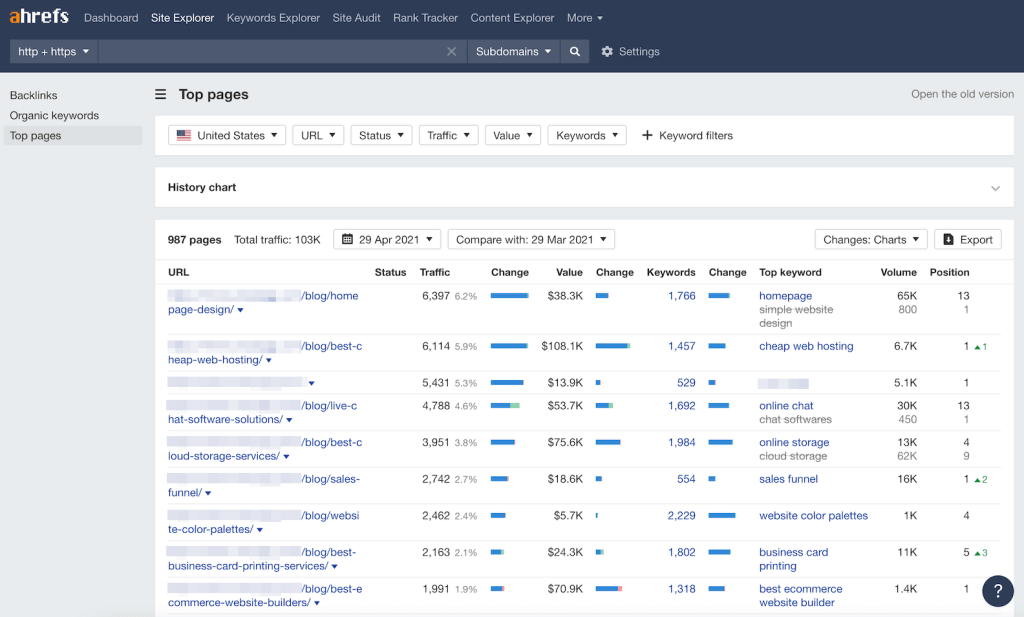 This screenshot shows the top pages on this company's website in terms of search traffic generation. Eight out of nine pages shown here are blog articles (the fully redacted URL in the left column is the homepage), and they each generate significant amounts of traffic for the website.
Why is this information useful?
Because if those articles are driving that much traffic to this company's site, we might want to create an article about the same topic.
There's clearly a desire for information about affordable hosting services. If we can create an article that adds to the conversation and offers new information or opinions, we can probably start to generate some traffic.
Even better, you can click the blue number in that Keywords column to get more keywords that you might be able to rank for: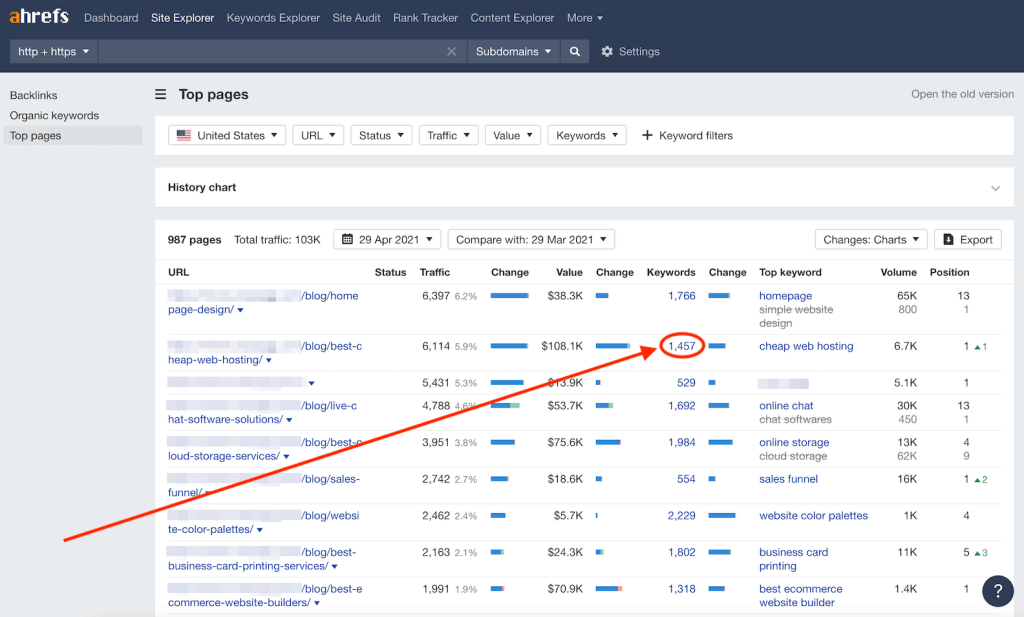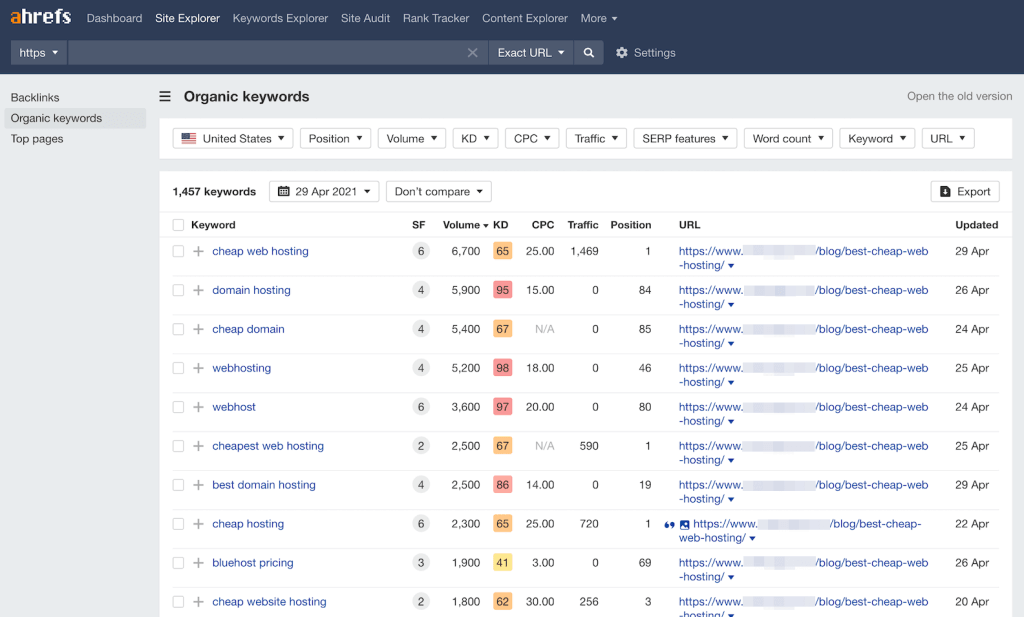 One thing to keep in mind here is that some keywords have far more competition than others. Ahrefs uses keyword difficulty ratings (listed in the KD column) to let you know how easy or hard it's going to be to rank for a given keyword.
Luckily, you can re-sort this chart to show keywords with the lowest difficulty first. All you have to do is click KD: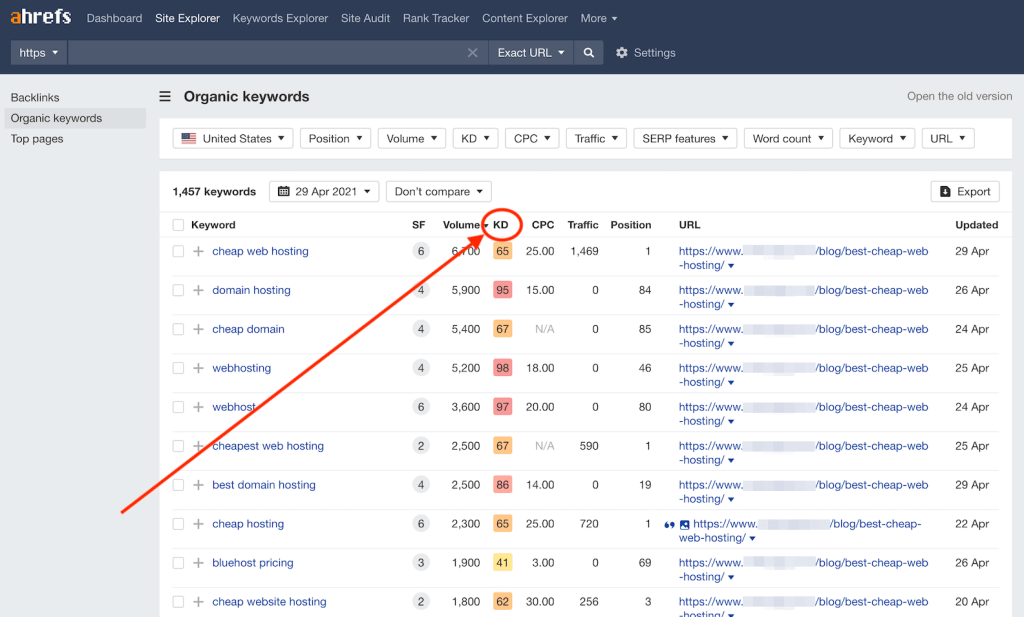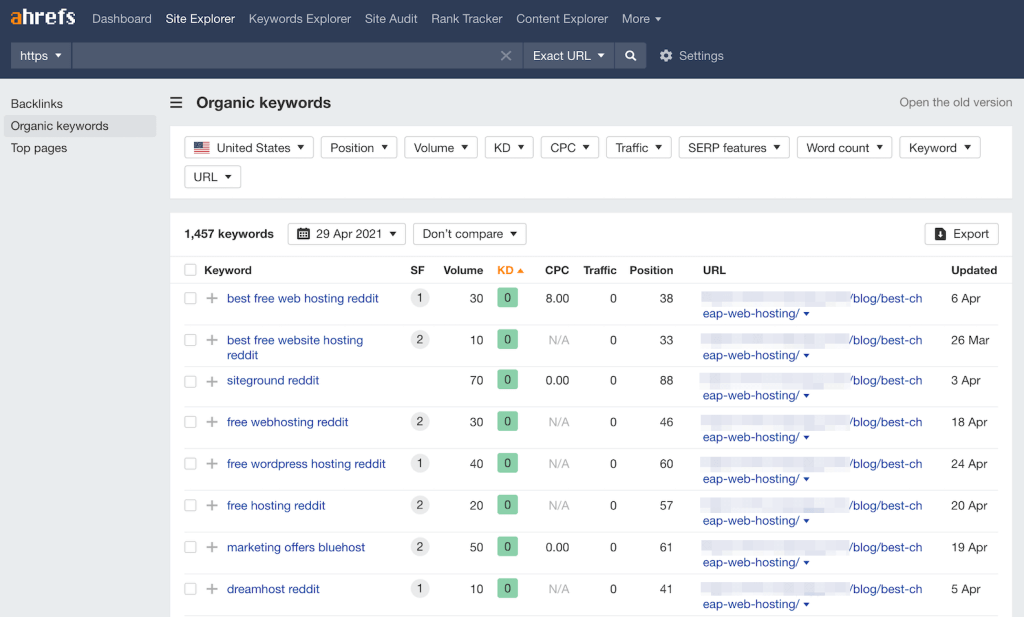 Not all of these "long-tail" keywords will be useful to you. Some of them don't have high enough search volume (SV) to warrant a full article, and some of them might seem like jumbled word combinations.
However, spend some time scrolling and you'll find keywords with relatively low competition and enough monthly search volume to make it worth your time.
For example: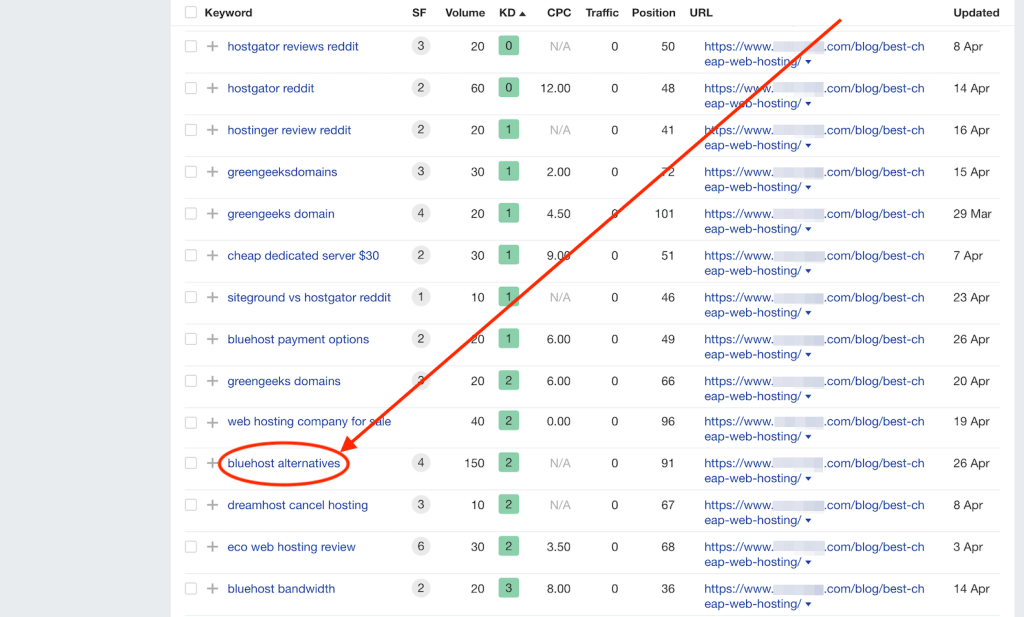 The term "bluehost alternatives" could be a good keyword for you to create a blog about, as long as it's loosely related to your business.
With a KD of 2 and a monthly search volume of 150, you may have a chance at ranking for this keyword, even if your site is brand new and gets very little traffic.
More on our competitor analysis process here
Reddit/Quora
This is an easier and less technical way to come up with blog ideas:
Go to Reddit or Quora, find the place where members are discussing topics related to your industry, and look at the types of questions people are asking.
Those questions are the pain points you want to address on your blog.
If they're asking questions on those platforms, it means that there's probably not a good answer elsewhere on the internet. Your blog could be the place that people go for that answer instead of having to go to Reddit or Quora in the future.
Oh, and if you want to take a more technical, data-driven approach here to increase your article's chances of ranking, make a list of questions you find and plug them into the Keyword Explorer bar on Ahrefs. It'll show you how many people are searching for that question each month, how difficult it will be to rank for, etc.
Or, reach out to Intergrowth®. We're an SEO-centric content marketing agency that creates the best content on the internet every day to drive traffic to our clients' websites. Get an estimate today.
---
Promote Your Brand Through Guest Blogging and HARO Outreach
All of the tasks we discussed above are considered "on-page SEO," as they deal with the content you publish on your own website.
But publishing on other sites is also an important part of any SEO campaign, as it can help you earn backlinks.
There are a bunch of different ways to do this, but here are two of the most common:
Writing Guests Posts
A lot of blogs (Hubspot, for one) accept posts from guest writers, and a lot of them include a link to the writer's site in the body or byline of the article.
Guest posting for an authoritative site in your niche will show Google that you're a trusted source of information. This could increase your site's domain authority and help it rank higher.
Thought Leadership Content is also good for link building. More than any other content on your site, these are the pieces that people will link back to, as they offer unique opinions directly related to your industry.
To search engines, backlinks signal that your article is a good resource. They also signal that the web pages you link to in that article are good resources, as well.
HARO Outreach
Help a Reporter Out (HARO) is a resource that journalists and other writers use to find expert quotes and insight for their own writing. Oftentimes, they'll include a backlink to your site in the published version of their article.
Anyone can sign up for HARO. Scour it every day for questions related to your skill set and respond as often as possible to increase your chances of landing quotes.
Note: Never pay for links. It's considered a black hat SEO technique, and Google will penalize you if they find out you do it. If you've purchased links in the past without realizing it was against Google's policies, have them removed so they don't affect your site rankings in the future.
---
Technical SEO for SaaS: Optimize Your Site's Back End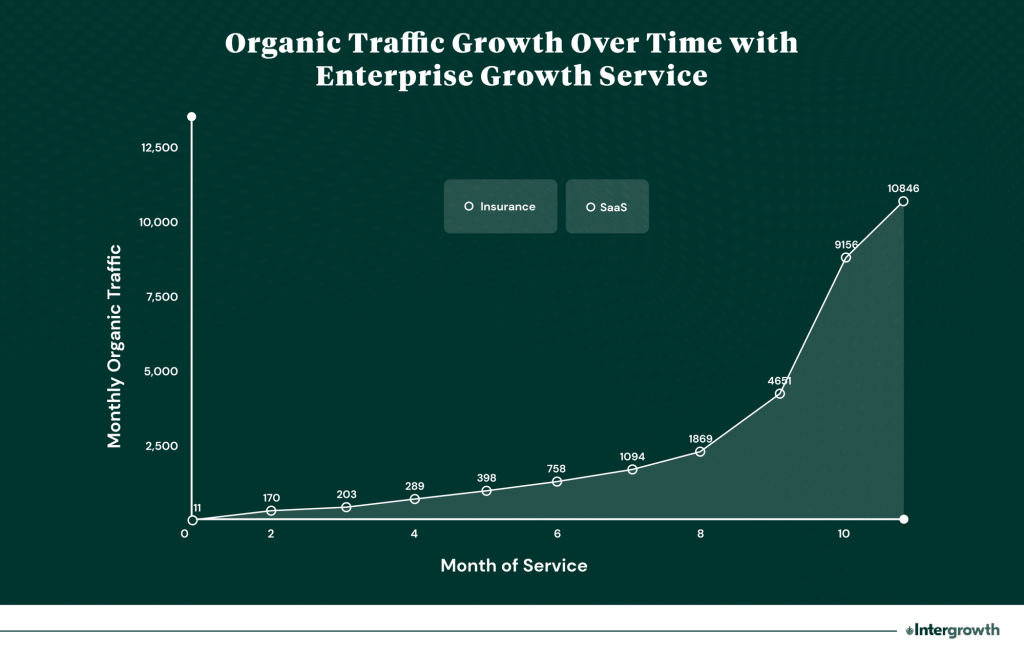 So far, we've talked mostly about optimizing the front end of your website. But there's a whole other part of SEO concerned with optimizing the back end.
It's called "technical SEO," and it's important because the back end is that part of your site the Google search algorithm interacts with. Even if your website is filled with valuable content, Google won't index anything if it doesn't know what your site is about.
And if it doesn't index anything, your tech site won't show up in the SERPs.
Technical SEO involves a whole range of tasks, including:
Compressing images: Page load speed is an often-underestimated ranking factor.
Creating an XML sitemap: This helps Google understand what's on each page.
Deleting or "noindex"-ing useless pages: Your whole site isn't indexed at once, so this ensures the most important ones are crawled first.
Embedding canonical links on duplicate pages: Duplicate content (test pages, URL variations, etc.) can confuse the index crawler, so you should indicate which is the "right" page.
Optimizing your site for mobile use: 50% of web traffic comes from mobile devices, so Google wants every site to have a mobile-friendly user experience.
If you're doing your own SEO, Moz has a bunch of great guides to help you with the technical aspects of your content marketing strategy.
Whether your SaaS website isn't getting the traffic you think it should, or you're the founder of a new software company looking for SEO services, we want to talk.
We turn SaaS businesses into industry leaders. Let's see if we're the right team to help you scale.